"When a door closes, a window opens." We welcome 2021 with open arms and the hope for a brighter tomorrow. The past year has forced us to see things from all angles, think differently about strategy, and to weather the storm. Our team stands ready to quickly identify and capitalize on opportunities for our client properties.
Agility is paramount.
Hospitality Headlines
'Differentiate or die': Travel marketers reboot as vaccine looms
The Drum
It was the year without holidays. But despite horizons being confined to their living rooms, consumers haven't lost their wanderlust. The Drum explores how top travel marketers are 'rebooting' the sector to get you back on a sandy beach as soon as it is safe.
Google Launches Hotel Travel Insights
Gain valuable insights into the travelers searching to stay in your area — and get tools, advice, and tips for making your business stand out online.

Tricks of the Trade
Trevor is going viral! With years of experience in the hospitality industry and effectively navigating a year like no other, it's time for Trevor to share his knowledge in his new video series, "Trevor's Two-Minute Tips." Each quarter, he will go live with a trending revenue management topic or back-to-basics trick that you can easily apply to your day-to-day operations. Take a break, grab a cup of coffee, and tune in! First up – "Forecasting."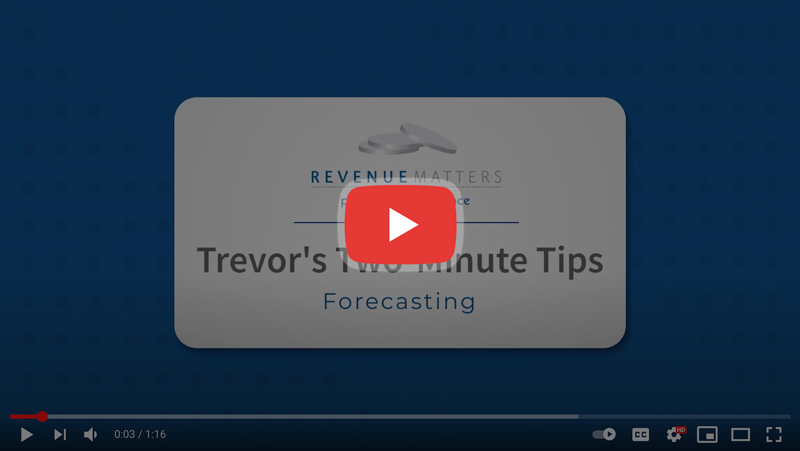 Going Up?
Booking Engine add-on packages are a great way to bring in additional revenue and set your property apart from your competition. The following case study shows one month of using only early check-in and late check-out packages. These packages didn't cost the property anything and brought in over $800 in revenue. With a monthly average ADR of $93, they added nearly nine rooms worth of income with these simple packages.

At Your Service
Social Media Services at Revenue Matters
We provide the creation, promotion, and daily management for various social media platforms. With the use of exciting and engaging content that is relevant to your property, we acquire lifetime connections that become property advocates. Our goal is to implement a strategic, personalized plan that will get your property noticed online. Our social team works to proactively generate revenue for client properties through Social Media Marketing in the following ways:
create, execute and manage daily social content
cultivate awareness, engagement, and a positive online reputation
create optional paid, targeted advertising campaigns
To learn more about Revenue Matters and the other services we provide, go to RevenueMatters.com.

Partner Spotlight
Russell Partnership Technology
Our friends at Russell Partnership have created an easy-to-use forecasting tool kit that enables users to generate two years' worth of cash-flow projections, P&L statements, and more within just minutes. It is a perfect complement to the MAXTM revenue forecasting module! If there is one thing we have all learned during the past 10 months is that adaptation to changing market dynamics is paramount, and shifts in demand will likely continue throughout 2021. Take control by quickly generating a picture of forward-looking profitability performance. You can learn more by speaking with your director of revenue strategy or by clicking HERE. Extra benefit: you can receive special pricing by using THIS link.


Five Star Rating
Congratulations to Shayla Williams, Will Perry, and Todd Farber for recently passing their Certified Revenue Management Executive (CRME) exams!
The CRME certification distinguishes those individuals who are:
A professional in the field of hotel revenue management and clearly conversant with its intricacies and importance
Competent to develop an infrastructure to support revenue management within the framework of an organization
Able to maximize revenue opportunities and optimize profits by managing revenue
Capable of making informed decisions to accept or reject pieces of business to meet overall organizational goals
Proficient at the art and science of revenue management

Rave Reviews
We Shared, You Liked
Your Favorite Social Media Posts of 2020

REVENUE MATTERS


303-690-9116

• info@revenuematters.com • RevenueMatters.com